EssentialPIM released version 11.2 for New Year's and summarized the significant enhancements in the announcement. Several of these affect Mail, which we'll review in this post.
Mail introduces translation
You can have EssentialPIM translate emails you receive into the language of your choice. Start by turning on the feature and selecting the language you want messages translated into (Tools > Options > Modules > Mail > Translation; see Figure 1).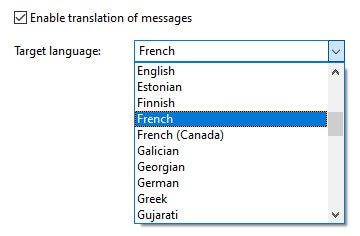 Figure 1.
Options for activating translation and selecting your preferred language.
Once translation is active, EssentialPIM detects messages that are not in the target language and presents a toolbar that shows the email's language followed by three options (Figure 2).
Translate. Click on this to translate the message. When you activate translation, EPIM then presents the option to stop translating (Figure 3).
Never translate. If you decide you don't want to translate messages in the detected language, click on this.

Let's say you have chosen French as your preferred language (Figure 1), and you decide you know English well enough that you don't need it translated. You can choose "never translate English" and EPIM will stop displaying this option when messages arrive in English. It will continue to offer translation for messages that are not in French or English.
Translation settings. Click this to go directly to the settings displayed in Figure 1.

Figure 2.
Options for handling the translation of messages.

Figure 3.
When EPIM has translated a message, it offers the option to turn off translation.
If you select Never translate by mistake and need to restore translation for that language, reset the EPIM.ini file as follows:
Exit EssentialPIM
Make a back-up copy of EPIM.ini
Open EPIM.ini in a text editor such as Notepad
Find this section:
TranslationEnabled=1
TranslationLanguage=
TranslationNever=uk,en,es
In the TranslationNever setting, delete the language you want to restore. For example, to resume translating messages written in English, delete ",en"
Save the file
Open EssentialPIM
You should see that EPIM again detects messages in English and presents them for translation.
Flag emails for follow up
Flagging emails for follow-up is another new feature in EssentialPIM v11.2. There are several ways to mark a message for follow-up.
Right-click on a message to bring up the context menu, which has a new entry for Follow Up.
Click on the Follow Up tool in the Mail toolbar (Figure 4, #1). This is a shortcut to the Follow Up menu (Figure 5, #1).
Hover the cursor over the Follow Up column for the desired message, then click. By default, EPIM will set the reminder for today. The Follow Up column is a toggle for setting a reminder or flagging it as complete (Figure 4, #2).
To set reminders for multiple emails, select them and then click in the Follow Up column while pressing the Ctrl-Shift keys.

Figure 4.
A tool to set reminders (#1) and a column for viewing flagged messages (#2) have been added.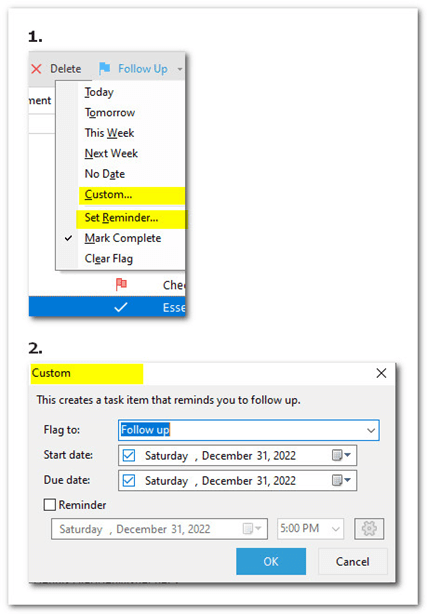 Figure 5.
Several predefined reminders are available (#1). For other choices, select Custom or Set Reminder (these display the same dialog (#2) except the Reminder box is checked when you choose Set Reminder).
You can choose from a variety of follow-up actions (Figure 6). Depending on their status, messages will display either a flag for follow-up or a checkmark for completion. EPIM also displays details about the reminder at the top of the message (Figure 7).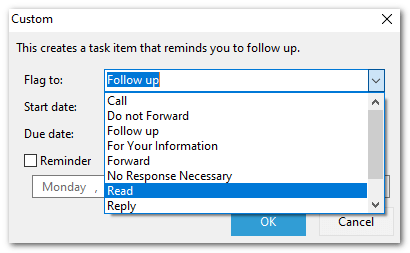 Figure 6.
Some of the follow-up actions you can choose.
Figure 7.
Besides flagging an item, EPIM displays details about the reminder at the top of the message.
When you flag a message for follow-up, EPIM automatically creates a task that you can see in the side bar (View > Sidebar > Tasks) or by going to the Tasks module. Remove a reminder by clicking on the flag in the Follow Up column in the task, or choose Clear Flag from the Follow Up menu.
Assign messages to categories
A final enhancement to Mail in v11.2 is the ability to assign messages to a category (Figure 8). You can apply this to either incoming or outgoing mail.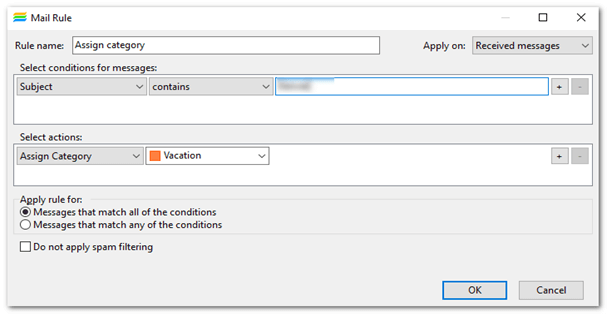 Figure 8.
Mail rules support assigning an incoming or outgoing message to a category.
We will review other enhancements in v11.2 in the next post.