Désolé, cette section est uniquement en anglais pour le moment. Vous pouvez toutefois utiliser Google Traduction pour la lire en français.
News and Updates About EssentialPIM
Keep up on the latest news and insights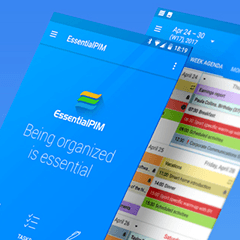 Back in 1969, the computer on board the lunar module "Eagle" displayed error number "1202," meaning its 4 KB of memory had run out during the landing. Nonetheless, Neil Armstrong landed the craft and reported "The Eagle has landed" to Houston.
Nowadays I hold a tablet that has 4 GB of memory, roughly 4.000.000 times as much as "Eagle," and all this with touchscreen, mouse and keyboard at my fingertips. Nearly everything I used to do on a desktop I can do on a mobile as well.
And that's why EssentialPIM has not only a Windows version (WinEPIM) for desktops, but also an Android version (AEPIM) for mobile devices. Many of us use mobile devices instead of desktops and here are three ways that EPIM supports us.