EssentialPIM Free offers an advanced backup feature. Backups of your *.epim database files are being made on the fly. This helps to keep your data safe under any circumstances. By default EssentialPIM creates two backup files in the same folder where the original database file is stored. Backup settings can be accessed by clicking on Tools -> Options -> Backup: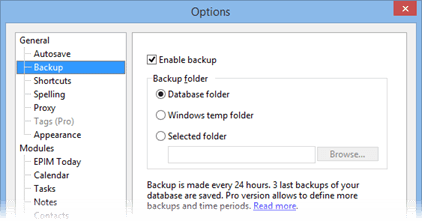 Enable backup option turns the backup feature on (enabled by default). We do not recommend turning it off, otherwise you will not be able to restore you database file in case of any failures.
Backup Folder section allows to choose where backup files will be stored. Backups can be created either in the same folder where you main database file is stored or in the standard Windows temp folder or you may specify a folder yourself by choosing this options and pressing the Browse button.
| | |
| --- | --- |
| | Note, EssentialPIM cannot save backups to a network locations or NAS drives. Thus make sure that you are using local path when setting custom backup folder. |
Different types of backup files
my_database.epim – regular EssentialPIM database file that was created by a user (you can always create a new file by clicking on File -> New). Path to the currently opened database file can be seen at the top of the EssentialPIM window or by clicking on File -> Database management.
my_matabase.backup_20130118_1401.epim – regular backup file that was created by EssentialPIM according to the backup settings set in options. Numbers mean date (in yyyymmdd format) and time (in 24h format) when the backup was created. To save space a backup file is a compression version of the initial database file and hence the difference in size with it. To recover data from backup, open it as if it was a regular EssentialPIM database file by clicking on File -> Open.
Note, if you need to transfer your data to another PC or drive, simply copy the original database file over to the new location. There's no need to work with backup files in such cases.
| | |
| --- | --- |
| | Note, it's not necessary to use backup file when you need to transfer EssentialPIM data to another PC. Just copy your main database file to another PC and open in EssentialPIM. |
restored.my_database.epim – restored backup file. We recommend to rename this type of files into something more user friendly (simply removing the "restored." part is ok) in order to prevent possible mess with future backup file names.
backup_convert_200130118_1521.epim.bak – these type of files are always created (in the folder where you original database file is stored) when EssentialPIM updates your database file to the new version. Usually happens when you run the new major EssentialPIM version for the first some. If something went wrong during the conversion process, you can always revert to the previous version of the file and open it with the previous version of EssentialPIM. To work with this kind of files, delete the .bak extension and open it in the previous EssentialPIM version by clicking on File -> Open. Older EssentialPIM versions can be obtained from here.