EssentialPIM Pro allows you to import Calendar, Tasks or Contacts data from a CSV file.
Once the CSV file is selected for import, you are going to see the following dialog window: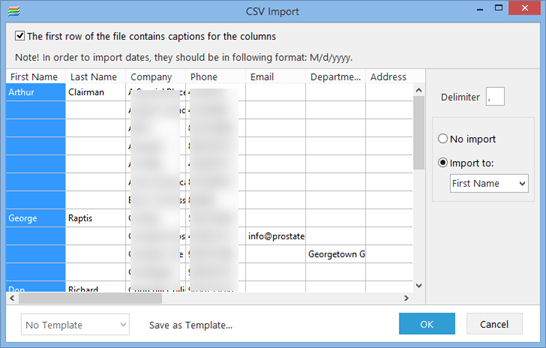 It allows you to map fields in the file to corresponding fields in EssentialPIM.
If the first row in the CSV file contains field captions, enable The first row of the file contains captions... option at the top. In this case EssentialPIM will map the fields automatically and create new custom fields if needed upon import.
If there's no field captions in the CSV file, you need to map the fields manually. Select a field in the table by clicking on it and choose a mapping field in the Import to drop down list. Repeat for every other field.
In some case the Delimiter symbol setting will need to be adjusted. It is used to divide records in CSV files. By default EssentialPIM uses the coma "," symbol but as this format is not standardized and different applications may use different delimiter symbols when exporting data to CSV files, you might need to adjust it. Otherwise you may see all your data in the first column. If you are not sure which delimiter symbol to use, open the CSV file in the standard Windows Notepad program and you will be able to spot it. Once you have entered the correct delimiter symbol, EssentialPIM will adjust the rows automatically.
Once you are satisfied with the result, click on the OK button.
If you need to import data from similarly formatted CSV files on a regular basis, it's advised to utilize the Templates feature found at the bottom of the CSV Import dialog window. The feature will allow you to quickly use the desired importing settings each time you load a new CSV file into EPIM.