EPIM Today shows an overview of Appointments, Anniversaries and Tasks for nearest days. You can configure EPIM Today settings in Tools -> Options -> EPIM Today.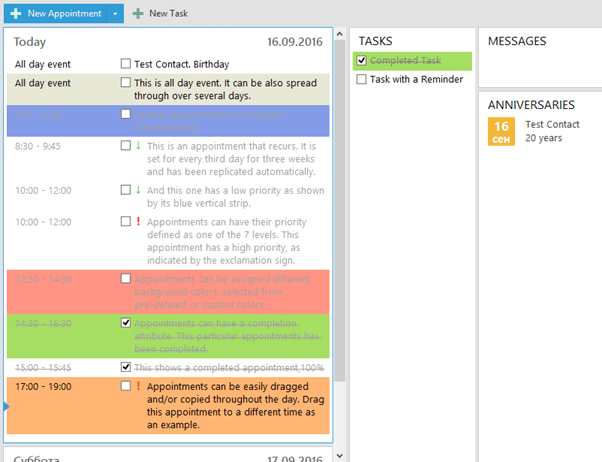 Calendar section shows Appointments for today and 3 upcoming days (by default settings).
Tasks section shows list of upcoming Tasks.
Messages section shows mail folders with unread messages.
Anniversaries section only appears when there's an anniversary coming soon. Anniversaries are being taken from contacts.
Today Settings
Today module is often used as a summary of upcoming major and important events. All the sections in EPIM Today can either be turned on or off in EPIM Today options under Tools -> Options -> EPIM Today.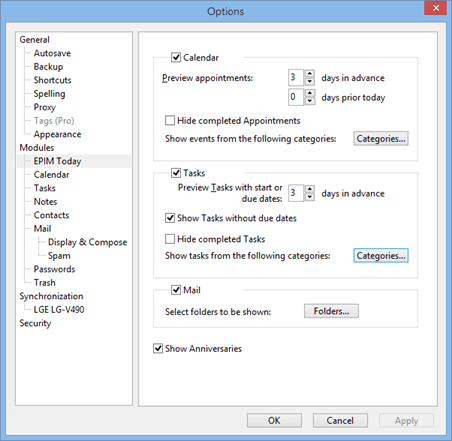 Calendar and Tasks sections allow you to adjust the number of days for previewing events and tasks. You will also be able to choose whether the completed items should be shown or not. Clicking on the Categories button will bring up a dialog window to choose items from which categories to show in EPIM Today.
The Folders button under the Mail section allows you to choose which mail folders to display in the Mail section of EPIM Today.
The Show Anniversaries checkbox turns on or off display of upcoming anniversaries in EPIM Today.
Any of the sections can be excluded from displaying in EPIM Today by unchecking the checkbox besides the section name.
| | |
| --- | --- |
| | EPIM Today settings will not affect any other similar options for other modules. For example, customized view settings or filters in Calendar or Tasks will not override EPIM Today settings. And vice versa EPIM Today settings have no effect on viewing options for other modules. |