EssentialPIM is capable of synchronizing with Android devices. You need to download and install the Android version of EssentialPIM onto your device [Google Play Link].
Pre-requisites for synchronization
•Device running Android 4.0.3 or newer version
•Common network between the Android device and PC. Your PC and Android usually connect to the same router (Android device uses Wi-Fi, while PC uses Wi-Fi or cable). It is also possible to sync over cellular networks, Bluetooth or USB cable
Setting up and running synchronizations
To set up synchronization for the first time, click on File -> Synchronization -> Add Synchronization -> Android.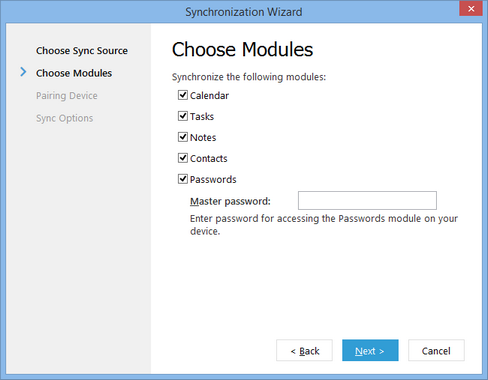 Choose data from which modules to synchronize and enter password for Passwords module (you may need to run EssentialPIM on Android first and set up a master password by tapping the Passwords icon). Once you finish, press Next.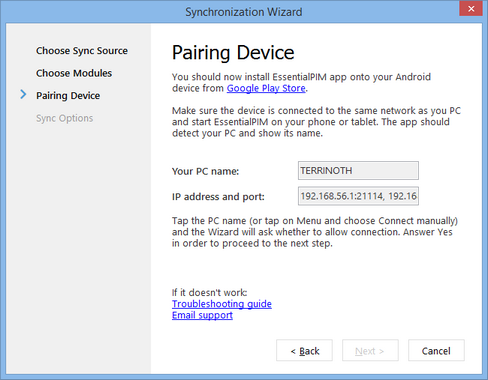 You are on the Pairing device step now, please carefully read all the instructions. After that, run EssentialPIM on an Android device and choose PC Sync option.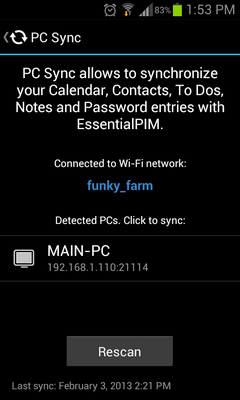 The app will automatically scan for PCs running a Windows version of EssentialPIM. If found, its name will be listed. Tap the name in order to start the sync process. If Android EPIM cannot detect a PC, please try connecting to it manually by clicking on Menu and choosing the corresponding option.
In order to prevent any unauthorized synchronization attempts with different devices in the future, Windows EssentialPIM will ask whether to allow synchronization with your particular device upon first connection attempt.
On the last step of the synchronization wizard you'll be able to change synchronization name and choose sync direction.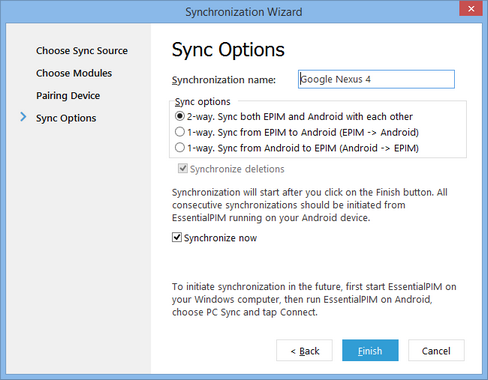 On subsequent synchronizations, to start synchronizing, you need to:
•Start the Windows version of EssentialPIM
•Start the Android version of EssentialPIM, go to PC Sync and either tap your computer's name (if you're within the same network) or tap on Menu and choose Connect manually (if you're going to sync over a cellular network, Bluetooth or USB cable)
If something does not work, see Troubleshooting Android Synchronization.