EssentialPIM offers a full scale Mail module with classic features set like support of IMAP and POP3 protocols, message rules and unlimited mail accounts.
Adding a mail account
Before you start working with mail you should create at least one mail account. There are several ways of doing this. Mail account can be added under File -> New -> Mail Account menu or in the Mail module under Tools -> Account Settings -> Add. In both cases a wizard starts which will guide you through the whole process.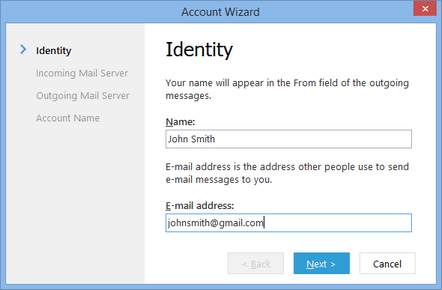 Name and email address fields you fill in during this step will be seen by a recipient in the From field of incoming mail. Click on the Next button.

Enter incoming and outgoing mail servers settings. EssentialPIM supports IMAP4 and POP3 server types for incoming mail. If you are not sure which type to choose, please refer to your mail provider. Server settings are usually covered in the frequently asked questions (FAQ) section.

If you create a POP3 account, the last step offers to use the Global folders (left picture) feature. In this case all mail accounts share and use the common set of folders. This feature is not available for IMAP4 accounts (right picture).
| | |
| --- | --- |
| | Note, the account type (POP3 or IMAP4) can only be set once, when creating a new account. It's not possible to change the account type later, for already existing accounts. |
| | |
| --- | --- |
| | Global Folders feature can be enabled when creating a new account only. It's not possible to enable or disable it for already existing accounts. |
| | |
| --- | --- |
| | Mail account settings can always be accessed and edited in Tools -> Account settings -> Edit |