There are several ways of adding a new appointment. You can press on New Appointment button from the tool bar or you can add it under Actions -> New Appointment.

The screenshot below explains how to easily add a certain appointment: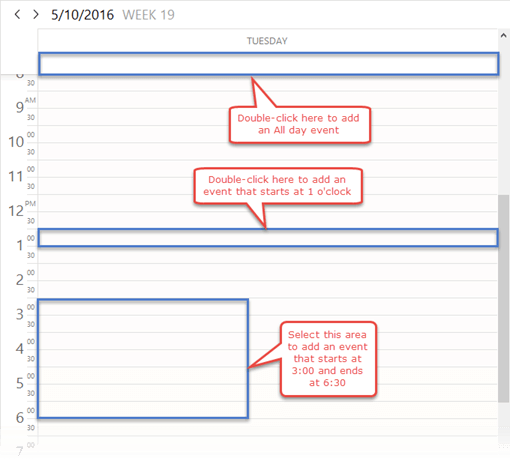 Using mouse, highlight the time needed for the appointment and release the button: the new appointment pop-up windows appears. Just enter the text and, if needed, assign Priority, Category, Completion, Alarms and Re-occurrence, then press OK.
Double clicking anywhere in the calendar grid creates a new appointment on that time and open new appointment dialog.
One more easy way of entering a new appointment is placing selection to a necessary time and just start typing. This automatically creates an appointment on the selected time without opening appointment editing dialog.
Shift+Ctrl+T - global shortcut for creating a new appointment (it works even when EssentialPIM is not active)
Appointment can be also added under File -> New -> Appointment