Contacts module is a convenient tool to keep and manage your contacts list.
Adding a Contact
There are several ways of adding a contact. The easiest one is pressing on Add Contact button in the tool panel, or under Actions -> New Contact from the main menu.
It is also possible to add a contact by double-clicking on an empty space in the main window. More details about editing contacts can be found in the Editing a contact topic.
Ins - add a new contact shortcut
Shift+Ctrl+C - global shortcut to create a new contact (it works even when EssentialPIM is running in the background).
Contact can be also added under File -> New -> Contact.
Contacts sorting and searching
EssentialPIM offers a number of tools for fast navigation through the contacts list. You will be able to find necessary record in a few clicks.
The first tool you can use is the search field at the top-right corner.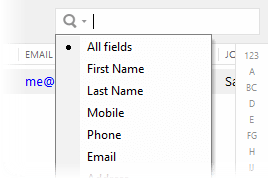 Clicking on the spyglass icon allows to select a searchable field.
The second tool allows fields sorting. Clicking on any field's name sorts all records in this field. If you need to sort by several fields, hold down the Ctrl button when pressing on fields names.
Another useful tool is Letters bar located at the right side of the contacts list. It allows to quickly navigate to a specific letter or number in the contacts list.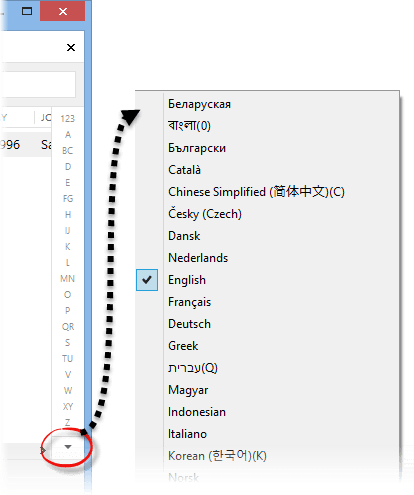 Letters bar can contain several languages. To add an additional alphabet press on the button at the bottom of the letters bar and enable necessary languages.
| | |
| --- | --- |
| | Letters bar can be enabled or disabled under View -> Letters Bar. |
| | |
| --- | --- |
| | Note, all described tools can be uses simultaneously and complement each other. |