EssentialPIM Pro allows you to sort incoming and outgoing mail automatically using Message rules. Click on the Tools menu and select the Message Rules option.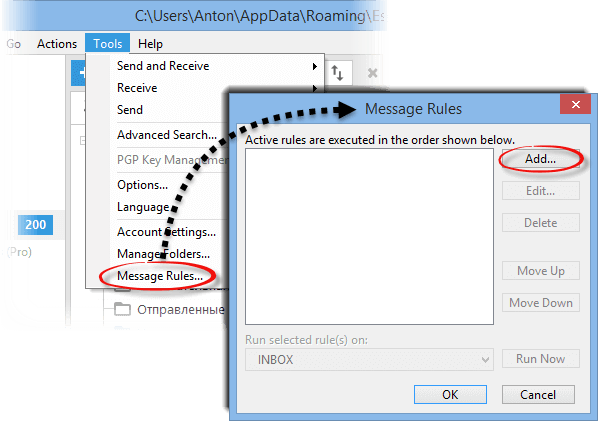 Press the Add button to create a new rule. This will open up the Mail Rule dialog window.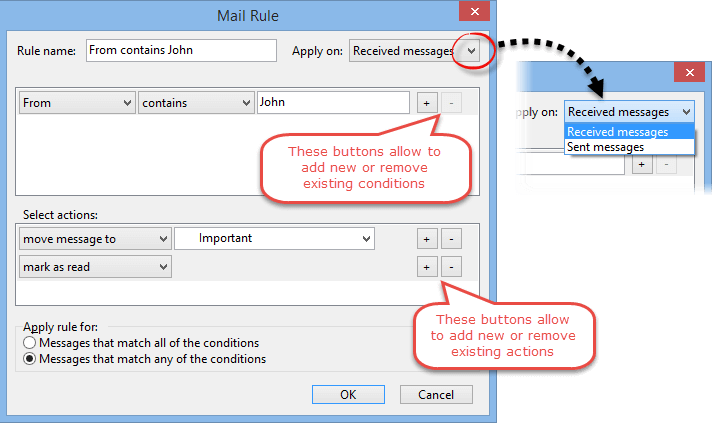 You may add or remove conditions by using the +/- buttons. Actions allow to choose what to do with a message if the condition is met. The given rule example will move messages to folder "Important" and mark them Read if From field will contain text "John". The rule can either be applied to Received or Sent messages via the Apply on dropdown list.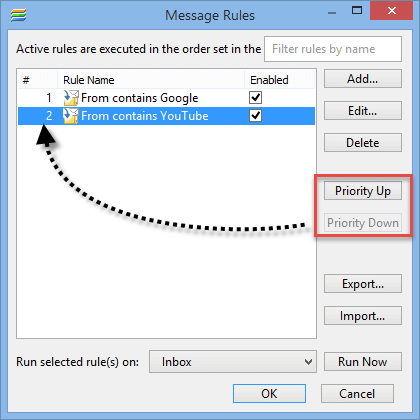 The message rules dialog window provides a number of tools to help you manage your set of rules:
- Disable or enable any message rule by clicking on the checkbox next to a rule's name.
- Rules are executed in order specified by the numbers from the # column. You can change the rule's priority by using Priority Up/Down buttons.
- Sort the message rules by clicking on the column headers.
- Run selected rule(s) on option allows you to immediately execute the selected rule on a specific folder.
The Export/Import buttons allow you to save and load set of mail rules (might be used as for backup as for transferring into another EPIM database purposes).