To add a new note, click on the Add Root button on the tool panel.

If you need to create a child or sibling note then click on arrow button next to Add to Root and select Add as Child or Add as Sibling option.

Then enter the note name. You can leave the default <Give name automatically> option. In this case EssentialPIM will use the first sentence of your note as its name: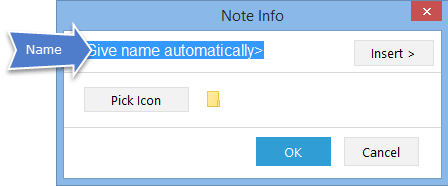 You can insert current date and time into the note name field using the Insert button or Ctrl+D (Day) and Ctrl+T (Time) shortcut keys.
EssentialPIM offers a classic set of text editing tools located on the toolbar.