Tasks module is an easy and useful tool for managing tasks list. EssentialPIM allows to sort records by any sorting criteria, assign different priority statuses and categories. These and many other features give wide capabilities on managing tasks list.
Adding a Task
There are several ways of adding a new task. The easiest one is pressing on Add button on the tool panel, or by pressing on Actions -> New Task in the main menu.

It is also possible to add a task by double-click on main window in Tasks module or Tasks section in Calendar. Any of these ways open a Task Info dialog where you can enter subject, due dates, category and other settings. More details can be found in the Editing a Task topic.
Shift+Ctrl+O - global shortcut to create a Task (it works even when EssentialPIM window in not active).
Task can be also added under File -> New -> Task.
Tasks View Customization
EssentialPIM allows customization of columns set and their order in the main view.

Right-click a column caption to enable/disable columns you want to display/hide.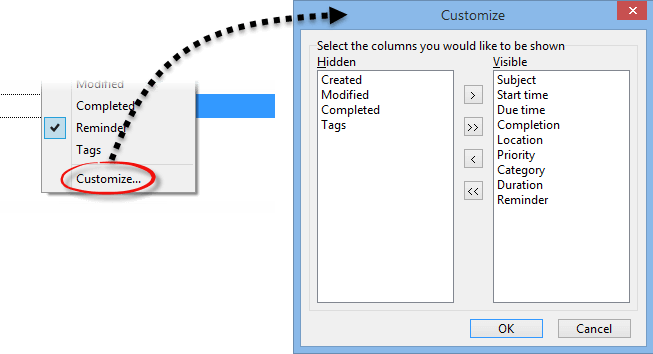 Selecting a Customize option opens a dialog where you can setup what columns to display from all available columns.

If you need to rearrange columns order, then drag fields to a desired position holding on left mouse button. When dragging small arrow icon shows where column is placed after you release mouse button.
Sorting and Searching
To sort tasks, click on any of the column names in the main view. To sort by several fields, click on the column names while holding the Ctrl button on your keyboard.
To search for specific items, use the search field at the top right corner.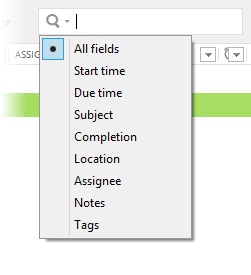 Clicking on the spyglass icon will allow you to choose specific fields to search in.
EssentialPIM allows you to hide completed tasks. This feature can be enabled under View -> Hide Completed. If the "Hide completed" option is enabled, the special Customized view line will be shown at the top.

| | |
| --- | --- |
| | The search field allows you to use the AND / OR operators for more complex queries. Operators have to be written in capital letters. |
| | |
| --- | --- |
| | Note, all the above searching and filtering methods can be combined with each other. |
Calculation of Duration
To see duration of a single or several tasks, select the items in the main view and check the status bar at the bottom.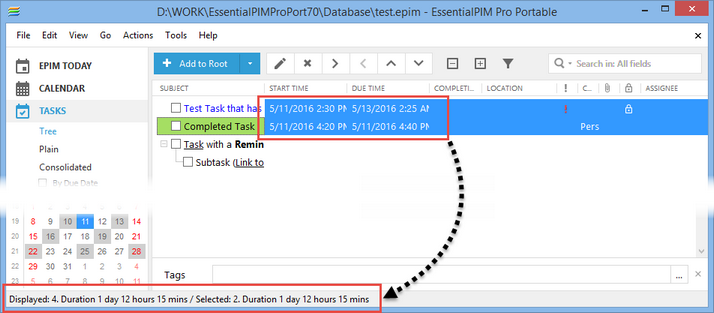 | | |
| --- | --- |
| | If the status bar is not visible, enable it under View -> Status Bar. |