If your internet connection uses proxy then in order to perform synchronization with cloud services or receive mail you need to fill in the proxy server settings in EssentialPIM. Proxy server settings are available in Tools -> Options -> Proxy.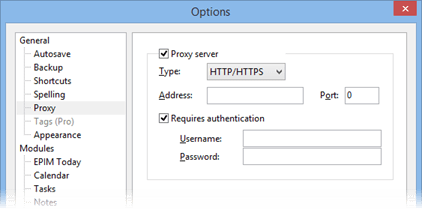 Proxy server - enables/disables use of a proxy server.
Type - allows to set a proxy server type: HTTP/HTTPS, SOCKS4 or SOCKS5.
Requires authentication - use only if your proxy server requires authentication, otherwise leave empty.