EssentialPIM is capable of synchronizing with iOS devices. You need to download and install the free iOS version of EssentialPIM onto your device from the App Store. You will be able to synchronize and manage the following data:
| | |
| --- | --- |
| Windows EssentialPIM | iOS EssentialPIM |
| Calendar | <-> Calendar (iOS built-in) |
| Contacts | <-> Contacts (iOS built-in) |
| Task | <-> Task (inside iOS EPIM) |
| Passwords | <-> Passwords (inside iOS EPIM) |
Prerequisites for synchronization
•Devices supported: iPhones 3GS and newer, all iPADs, iPOD 3 and newer (provided iOS 5 or newer is installed)
•iTunes is installed on PC
•Common Network between iOS device and PC. This is usual that your PC and iOS connect to the same router (iOS device uses Wi Fi, while PC uses Wi Fi or cable)
Setting up iOS EPIM synchronization
1. On Windows EPIM, click on File -> Synchronization -> Add Synchronization -> iPhone/iPad.
A wizard will start that will guide you through setting up a synchronization. This is a one-time process, after this you will need only start synchronizations from your device.
2. On "Sync Credentials" step, choose modules to synchronize.
3. On next, "Pairing Device" step, you should search for "EssentialPIM" on App Store on your device and install it.
Tip: Make sure your iPhone/iPad Wi Fi is connected to the same network as your Windows computer.
4. After you run EssentialPIM on your iPhone/iPad, choose "PC Sync" menu. You should see this screen (press Start):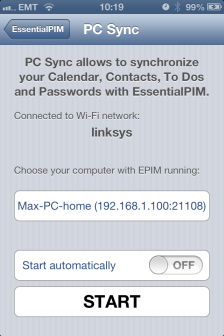 Tip: If you do not see "Start" button, make sure your Windows EPIM is now on "Pairing Device" step and you have iTunes installed on Windows!
5. At the same time, EssentialPIM on Windows will ask for confirmation: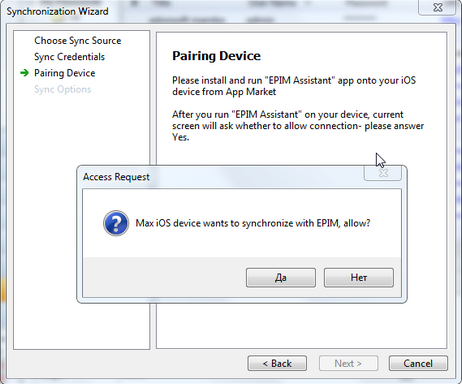 This is needed to prevent any unauthorized synchronization attempts with different devices in the future.
6. Next, "Sync Options" step presents you with some Options. Default Options are usually OK.
On subsequent synchronizations, to start synchronizing, you need to:
•start Windows EPIM
•start iOS EPIM, go to "PC Sync" and press "Start"
If something does not work, see Troubleshooting iOS Synchronization
More details on synchronization
For each EssentialPIM category on Windows, a separate calendar will be created on iPhone/iPad (to change this go to Tools-> Options-> Your synchronization and uncheck "Create calendars in iPhone for each of EPIM categories". In this case all EPIM categories will be synchronized to one default calendar on your iPhone/iPad).