EssentialPIM Pro Business offers wide data sharing capabilities for medium and small work groups. The business version allows simultaneous multi-user access to all modules (except mail) in one common database file. Each user can create public or private records, assign records to other users, and edit categories. User rights are editable as well. For example, user rights can be limited to read-only, if necessary. All changes made by one user become available to all other users instantly (if not contradicted with the users' rights).
The picture below illustrates an example network diagram.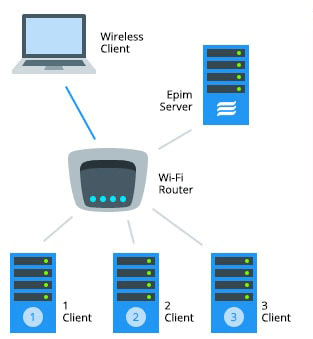 The main database (*.epim file) is stored on the server and clients with EssentialPIM Pro installed connect to the server. You can use any PC/Mac/Linux computer as a server. It's not necessary but still possible to install EssentialPIM Pro client on the server. In this case you should connect to a database file the same way as if you were on a client PC.
Connection to the database is possible through LAN, as well as through VPN or Internet.