Mail
Experience the power and versatility of EssentialPIM, the ultimate Windows email client. With robust support for popular email technologies such as IMAP, Exchange, and POP, it provides seamless connectivity and synchronization for all your email accounts. Enjoy the added security and privacy of complete PGP encryption, keeping your sensitive information safe from prying eyes. Whether you're working online or offline, EssentialPIM ensures uninterrupted access to your emails, making it the ideal choice for efficient and reliable email management.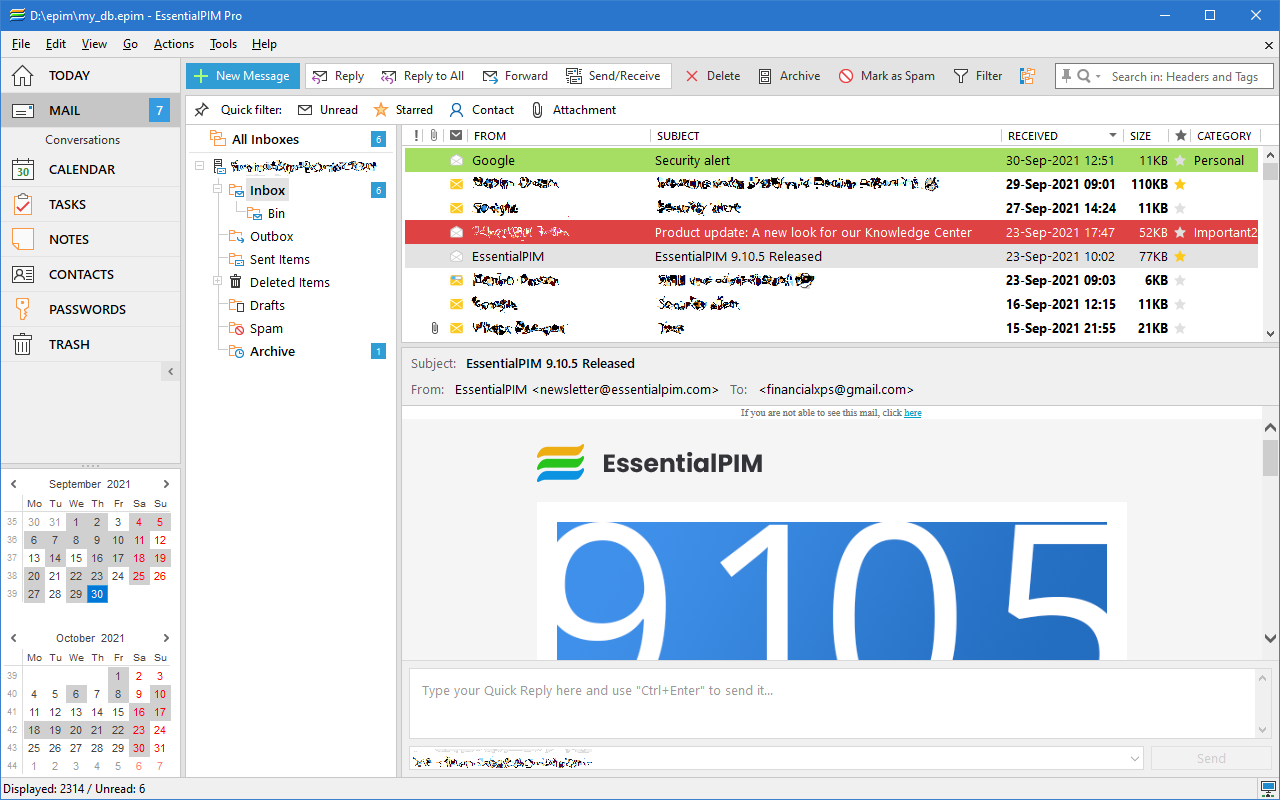 Screenshots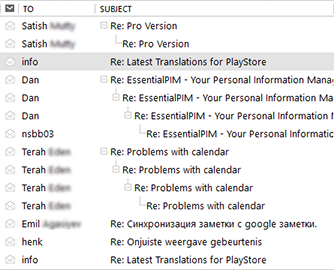 Group Emails by Conversation
EPIM groups related emails into threads, keeping your inbox organized and clutter-free. You can conveniently collapse or expand these email threads, making it easy to navigate through your messages.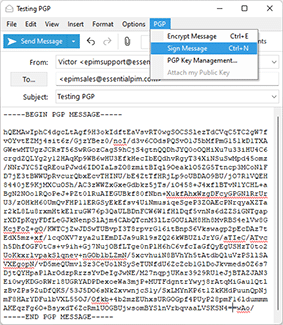 Translate Email Messages
Easily translate email messages into your preferred language. With just a single click, you can translate incoming emails, making it convenient to communicate with contacts who speak different languages.
Create Text Snippets
You can create and insert text snippets AKA canned responses, into your emails. This feature enables you to swiftly prepare and insert pre-defined blocks of text for common responses, saving you time and effort.
Quick Reply Box
Streamline email responses with the quick reply box in EssentialPIM. Easily compose and send replies as you scroll through emails, eliminating the need for separate windows and enhancing efficiency.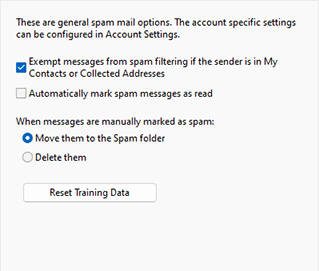 Spam Filtering
Leverage EPIM's adaptive spam filtering feature that learns from your actions to effectively detect and filter spam. EssentialPIM intelligently analyzes your email interactions, continuously improving its filtering mechanisms to keep unwanted spam messages out of your inbox.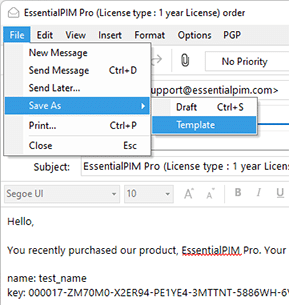 Email Templates
Optimize your email workflow with EssentialPIM's templates. Create reusable email templates with predefined content, formatting, and attachments, enabling you to compose and send emails swiftly and effortlessly.
Other Advanced Features to Boost Your Productivity
Check for missing attachments before sending your emails

Transform your emails into actionable items by converting them into events, tasks, or notes

Experience seamless native integration with Microsoft Exchange

Effortlessly manage your email flow with incoming and outgoing message rules

A unified inbox that brings all your email accounts together in one place

Take control of your email scheduling with EssentialPIM's "Send Later" option

Set flags on emails for convenient follow-up reminders

Keep your email clutter-free and organized by utilizing the "Archive" feature

Protect your email communications with PGP email encryption

Simplify email management and maintain a clean inbox with "Auto Delete"
Email integrates and synchronizes with:
Google

Outlook.com / Outlook for Microsoft 365

Microsoft Exchange

iCloud

IMAP and POP3