Sports have a way of equalizing the skills of participants so that their performance is comparable. The players are given a "handicap".
In everyday life, however, a handicap is not given, but is something one has and it does not equalize our ability. The handicapped person has to make accommodations to deal with everyday life.
EssentialPIM can be such an accommodation and in this post, I will try to tell how it can help make life easier for the handicapped. Every handicap is different, so I am speaking for myself. (I apologize to have used pictures from my German version in this article, but I'm sure readers will understand their content).
Fortunately, I can handle my life quite independently, but I have limited energy, concentration and ability to navigate. So, throughout the day my aim is to save energy and time and to find the simplest routes possible. At the end of the day, it is all a question of what I am still able to do and not run out of energy.
My mobile devices, which are always with me, and Android-EPIM (AEPIM) play a vital role in this.
Everyone I know is a tap away
All of my contacts are on my tablet in AEPIM's Contacts module: Doctors, pharmacies, physiotherapists, hospital, authorities, friends, family, neighbors, etc. I don't spend time and energy looking up a contact anywhere else and I never have the horror of not finding someone I urgently need.
Figure 1.
Contacts.
I just tap on AEPIM's Contacts widget and everything is there, carefully collected into a single contacts group, not needing to search through a long list (Figure 1). From there I can call somebody, send an email or SMS text and even get directions with a link to GoogleMaps. Eventually, I would love to start a WhatsApp conversation directly out of my contacts.
Calendar keeps my schedule and more
I manage my appointments in AEPIM's calendar, where I can see them handily. Reminders help me not to miss any appointment and details give me everything I need—especially important for doctor's visits. My calendar entry includes contact information, a file attachment containing my current drug-list (so, I never risk forgetting to mention a drug I started taking lately), a short note not to forget certain documents and, again, a link to Google Maps for directions.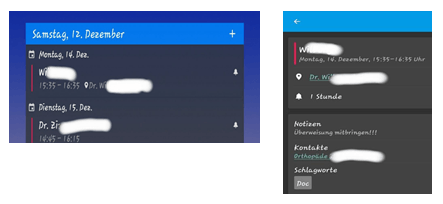 Figure 2.
Calendar.
In case it's a recurring appointment, AEPIM helps me to have the whole series stored on my tablet and to be able to schedule new ones without double booking. The ability to set appointments as exclusive is especially important to avoid conflicts with medical appointments (at least here in Germany, and even more in rural areas) where a date with a specialist has to be made many weeks in advance.
EPIM concentrates when I can't
There's even more. A lack of concentration sometimes is part of my handicap, so I keep a list of things to do and to buy. AEPIM's Task module helps me. Each item has a checkbox to mark when I have bought or done something and to see what I still have to do.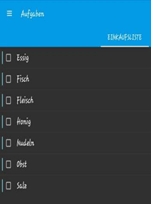 Figure 3.
Tasks.
And there is the Password module, where I store sites and how to login. As each should have different login data, this assures me everything is there, just in case I don't remember (I rarely forget but, as I said … just in case … and being 60 years old now, I realize I don't get younger!). A recent experience comes to mind. I had to terminate my electric utility and I needed the website and login to do that online. To postpone would have risked forgetting, so I sat down in a cafe and just did it right away.
Last, but not least, I can sync all my tablet data to my smartphone and my notebook. So, no matter which device I take with me, I am sure to have all my data.
Imagine Alexa and EPIM together!
When I started in IT back in the 1980's, we had only desktops and very limited hardware and software, but my abilities weren't a question. Not so today. I'm lucky to live when I have everything at my fingertips. Anytime, anywhere! Having hardware and software for all I need is vital.
The evolution of technology has given me a dream. At home I have "Alexa" and I tell "her" to add something to my shopping list or my to-do list. I dream of having these added to AEPIM automatically where I can use my contacts to order items and have them delivered. Or, I dream of giving AEPIM voice commands to create an appointment or to send an email.
One day, maybe voice control will be part of a system with AEPIM at the center. You can see what IT makes possible even now by the life of Stephen Hawking, the physicist. Despite his massive handicaps, he could do many things just by voice and eye movement.
My wish is that software developers, as it seems to be with EPIM, think about the handicapped.
Has EPIM helped you to manage a handicap or made your life easier? We'd love to know. Leave a comment and tell us about it.
Axel has worked in information technology and lives in Bavaria, Germany.
(A personal appeal from Axel. There are far too many situations in everyday life when handicapped people are ignored. Just imagine how often there are steps in the way to get somewhere. Please remember, life is for all of us, not only the healthy. I don't have many handicaps, but even I have to fight for many things because people just don't think (or even worse!) And in times of Corona, we do need to think of those who are less able).